National A.A.U.
"...one of the greatest champions in the history of amateur boxing..."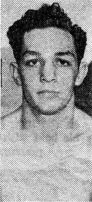 Nanticoke Champion of 1937 and 1938 Points to Third Crown
Lewis Is Defeated

San Francisco, April 13-Survivors of the first and second round matches in the National Amateur Boxing Championships-a constant barrage of leather which started in two rings yesterday and wound up in one ring shortly before 1 AM today-return to Civic Auditorium tonight to pummel each other in the quarterfinals. Ninety-nine bouts were fought in the openers.

First major upset of the three-day tournament was witnessed when highly touted Bradley Lewis, Albany, New York, bumped into another Negro, Ezzard Charles, Columbus, Ohio, in the 147 pound class. Charles upset predictions, winning three rounds and the decision to Speary

Two champion survived opening tests. Billy Speary, Nanticoke, Pa., winner of the bantam crown in 1937 in 1938, put on a nifty display of milling. In his first bout he took Abe Sauzo, Denver, and returned to eliminate Emmet Grier of Detroit.

The other title holder, Bill Eddy, Flint, Michigan, scored a two-round knockout over Mitchell Walton, Columbus, Ohio, Nigro, in the night program. He floored Walton twice before the contest was stopped.
SPEARY ADVANCES TO BOXING FINALS
Rich and Mercado Also Score in A.A.U. Tourney, Former an Unpopular Verdict

SAN FRANCISCO, April 14 (AP). -Amateur boxing stars of the country comprising a field whittled down to semi-finalists, started their fistic bombardment tonight to determine eight champions of the national A.A.U. More than 7000 fans attended the program.

In the opening three-rounder Beebe Rich, Kansas City, Missouri, was awarded the decision over Nick Trujillo, Denver flyweight. The verdict on a storm of boos from the crowd, which evidently thought the little gamester from Colorado deserved to call.

Southpaw Jose Mercado from Honolulu scored a decisive triumphed in his flyweight match with John Forte, Philadelphia. Mercado landed at will, his opponent being unable to penetrate the former's unorthodox style or devise a defense against it.

Defending Champion Billy Speary of Philadelphia continued his sweep through the bantamweight division with the decision over Earl Reid, Michigan City, Ind., in a semi-finals match.
BILLY SPEARY CAPTURED THIRD VICTORY ON COAST

Nanticoke Boy Finishes off Yasui In Third Round of A.A.U. Tourney

In the quarter-finals last night, two defending champions belted their way to victory. Bill Eddy of Flint, Michigan, featherweight title-holder, conquered Thomas Campbell, Kansas City negro and Bill Speary, 118-pound champion from Nanticoke, Pa., scored a third round technical knockout over Eddie Yasui of Honolulu.
"... If all Bill Speary's boxing titles were laid end to end, some poor type setter would have to work overtime..."

ONLY CHAMP TO REPEAT IN 3 MEETS
ODDS FAVOR HIM TO REPRESENT UNITED -STATES IN OLYMPICS
8 OTHERS CROWNED

San Francisco, April 15 - eight amateur boxing kings of the nation were crowned in San Francisco early today.
They were the survivors of sectional championships throughout the country and the ultimate victors in the thrilling three day National A.A.U. championships which logged 185 three-round or less fights since 3 o'clock Wednesday afternoon.
The final bell ending the tournament sounded shortly before 1 o'clock this morning. With that bell Tony Novak, a handsome blonde from Chicago, was crowned heavyweight amateur champion. He was the last of 8 champions to receive his crown.
Preceding Novak into the championship division were:
Jose Mercado, Honolulu, flyweight champion.
Billy Speary, Nanticoke, Pa. who successfully defended the bantamweight crown he won last year. In 1937 Speary won the 112-pound flyweight crown.

Speary Beats Menney, Wins Crown
Billy Speary, of the Philadelphia Inquirer AA and a fine boxer and fighter, won the national A.A.U. amateur boxing title when he defeated Lou Menney, of Los Angeles, California, in the final bout of that class at San Francisco Friday night. Picture shows Speary forcing Menney to a corner in the second round.