5 NY BOXERS GAIN FINALS IN GLOVES

by Jack Mahon
5 New York sluggers led the parade into the final round of the Golden Gloves tournaments champions before more than 17,000 in the Garden last night. Paced by Buddy Moore, the highly-touted colored heavyweight, Basil Jones, Tami Mauriello, Ray Robinson and Henry Jones qualified for the fights which were to decide the Eastern champions of ' 39. The Philadelphia Inquirer squad, favored to capture the team title, was second after the semi-final warfare had subsided. Bill Speary, Johnny Forte, Johnny Noce and T. Steffanelli were the Philly representatives.
Buddy left hooked Vince repeatedly to the body in the opening round but could not make him back up. Vince tied Moore in the second. He backed Buddy into Vince's own corner and as the crowd roared bounced three long overhand rights off Moore's face. Buddy had to look to his corner for advice repeatedly in this round, which Pellegrini won.
What happened to Vince?
Whatever happened to Vince between rounds is a mystery but he folded up in the final round and scarcely threw a punch.

BULLETIN
Bill Speary of the Philly team, took the second member of the Beaton family in tow when he knocked out Johnny, the Trenton Times lad, in two minutes and 41 seconds of the 1st round. This victory gave Speary the 118-pound title.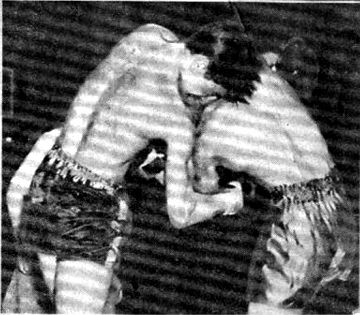 TOE TO TOE STUFF!
The Philadelphia ace, Bill Speary (left), appears to be getting the worst of it in this 118-pound thriller as Peter Beaton scorers with the right to the ribs but Bill won decision.