Bill Speary Sweeps Again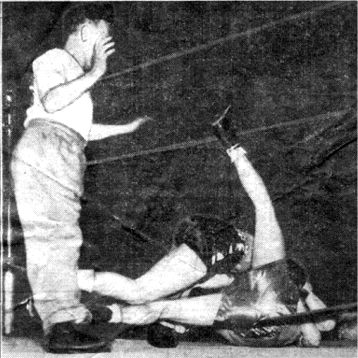 Double Kayo?
That's what it looks like. The boys got up, though, in this frantic 118-pound brawl with Philadelphia's Bill Speary going on to cop the decision over Peter Beaton, Westchester. Bill's on bottom of this mix up.
Bill Speary, Nanticoke boy, won his third straight Golden Gloves title in Madison Square Garden last week when he swept through four matches in the 118-pound class. In the semi-finals he decisioned Peter Beaton of Trenton, N. J., and then flattened Peter's brother, Johnny, in the final for his fourth knockout of the tourney.
Eddie O'Leary, Pringle boy who represented the Philadelphia area in the 126-pound division, won his first fight by knockout in the third round, copped the decision in his second fight and lost a close verdict to Mario Centi, the featherweight from Passaic, N. J. It was termed the biggest upset and the margin victory was so minute that many felt the decision could just as fairly have been handed to O'Leary.